Chorus:

Even if the sky's gone black
And though you can't see me
Just know that I hold your hand
For me.

Verse I:

I know I never stayed at home
The things I thought were real to me
Are now the things I hate.
I was the one who needed help, I know,
Drowning in myself I only pushed you away.
But the further I pushed, the harder you tried.
(And now I say)

Verse II:
It seems that now the clocks are off,
Time seems to have stopped;
This I fear to be my fault:
I always slowed you down.

But even after you had gone
I can't get time to move again
I'm in perpetual monotony
(And now I sing)

Bridge:
It's getting late, I told you then, pulling on my coat;
A self induced, sick euphoria clouding up my brain.
A sardonic smile and a slurred goodbye was all it took
For you to start to cry for me.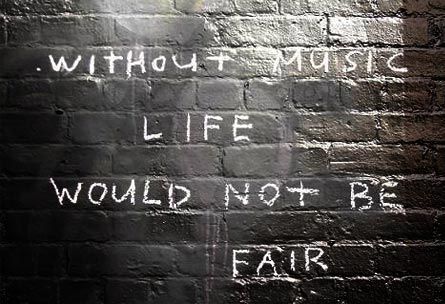 This picture is from the Pictures of Walls website.
After silence, that which comes nearest to expressing the inexpressible is music.